Wong is Wrong
This post is regarding Australia's minister for Climate Change and Water and her relative inaction regarding Professor Ross Garnaut's interim greenhouse review.
See the full story at PaleBluDot.
Well I just couldn't resist and whilst in the moment I'll add, two Wrongs wont make a right either Ms Wong.
This post is regarding Australia's minister for Climate Change and Water (Penny Wong) and her relative inaction regarding Professor Ross Garnaut's interim greenhouse review.
The story so far. Australia is dominated by the Banks, the Resource industry and the Industrial Farming sector… they are the ones, who at present with more than a little help of the Rice & Cotton mob in the not so deep north, who justify their greed with the defense of 'export growth' & 'jobs', whilst the mob in the not so deep north go on butchering our most important Murray Darling waterway.
The Garnaut Climate Change Report is handed in and it tells us what most thinking people already know… like it's not that hard to realize that to freeze the World's pollution at sort of 1990's levels, when there were already signs of climatic arrhythmia, is not unlike closing the barn door after the horse has bolted… to the power of a number just sightly south of infinity.
POST CONTINUES
Below is the executive summary of Professor Ross Garnaut:-
"Ross Garnaut has been a Professor of Economics in the Research School of Pacific and Asian Studies at the Australian National University since 1989. He is currently Chairman of a number of international companies and research organisations, including the International Food Policy Research Institute, and a board member of several others. From 1985-88, Professor Garnaut was the Australian Ambassador to China.
This Interim Report seeks to provide a flavour of early findings from the work of the Review, to share ideas on work in progress as a basis for interaction with the Australian community, and to indicate the scope of the work program through to the completion of the Review. There are some important areas of the Reviews work that are barely touched upon in the Interim Report, which will feature prominently in the final reports. Adaptation to climate change, energy efficiency and the distribution of the costs of climate change across households and regions are amongst the prominent omissions from this presentation.
Many views put forward in this Interim Report represent genuinely interim judgments. The Review looks forward to feedback from interested people before formulating recommendations for the final reports.
Developments in mainstream scientific opinion on the relationship between emissions accumulations and climate outcomes, and the Review's own work on future "business as usual" global emissions, suggest that the world is moving towards high risks of dangerous climate change more rapidly than has generally been understood. This makes mitigation more urgent and more costly. At the same time, it makes the probable effects of unmitigated climate change more costly, for Australia and for the world.
The largest source of increased urgency is the unexpectedly high growth of the world economy in the early twenty-first century, combined with unexpectedly high energy intensity of that growth and continuing reliance on high-emissions fossil fuels as sources of energy. These developments are associated with strong economic growth in the developing world, first of all in China. The stronger growth has strong momentum and is likely to continue. It is neither desirable nor remotely feasible to seek to remove environmental pressures through diminution of the aspirations of the world's people for higher material standards of living. The challenge is to end the linkage between economic growth and emissions of greenhouse gases.
Australia's interest lies in the world adopting a strong and effective position on climate change mitigation. This interest is driven by two realities of Australia's position relative to other developed countries: our exceptional sensitivity to climate change: and our exceptional opportunity to do well in a world of effective global mitigation. Australia playing its full part in international efforts on climate change can have a positive effect on global outcomes. The direct effects of Australia's emissions reduction efforts are of secondary importance. Australia has an important role to play alongside its international partners in establishing a realistic approach to global mitigation. Australia can contribute to the development of clear international understandings on the four components of a successful framework for global mitigation: setting the right global objectives for reduction of the risk of dangerous climate change; converting this into a goal for stabilisation of greenhouse gases in the atmosphere at a specified level; calculating the amount of additional emissions that can be emitted into the atmosphere over a specified number of years if stabilisation of atmospheric concentrations is to be achieved at the desired level; and developing principles for allocating a limited global emissions budget among countries.
Australia should make firm commitments in 2008, to 2020 and 2050 emissions targets that embody similar adjustment cost to that accepted by other developed countries. A lead has been provided by the European Union, and there are reasonable prospects that the United States will become part of the main international framework after the November 2008 elections. Some version of the current State and Federal targets of 60 per cent reduction by 2050, with appropriate interim targets, would meet these requirements.
Australia would need to go considerably further in reduction of emissions as part of an effective global agreement, with full participation by major developing countries, designed to reduce risks of dangerous climate change to acceptable levels. Australia should formulate a position on the contribution that it would be prepared make to an effective global agreement, and offer to implement that stronger position if an appropriately structured international agreement were reached.
The process of reaching an adequate global agreement will be long and difficult. Australia can help to keep the possibility of eventual agreement alive by efficient implementation of its own abatement policies, and through the development of exemplary working models of cooperation with developing countries in regional agreements, including with Papua New Guinea.
Australia must now put in place effective policies to achieve major reductions in emissions. The emissions trading scheme (ETS) is the centre-piece of a domestic mitigation strategy. To achieve effective mitigation at the lowest possible cost, the ETS will need to be supported by measures to correct market failures or weaknesses related to innovation, research and development, to information, and to network infrastructure.
Establishing an ETS with ambitious mitigation objectives will be difficult and will make heavy demands on scarce economic and finite political resources. The difficulty of the task makes it essential to use the most efficient means of achieving the mitigation objectives. That means efficiency both in minimising the economic costs, and in distributing the costs of the scheme across the Australian community in ways that are broadly seen as being fair.
To be effective in contributing as much as possible to an effective global effort to avoid unacceptably high risks of dangerous climate change, soundly based domestic and international policies will need to be sustained steadily over long periods. Policy-makers will need to eschew short-term responses that seem to deal with immediate problems but contribute to the building of pressures for future policy change. The Review aims to provide the basis for steady long-term policy at Commonwealth and State levels, and for productive long-term Australian interaction with the international community on climate change policy."
From: Executive Summary, Garnaut Climate Change Review Interim Report to the Commonwealth, State And Territory Governments of Australia, February 2008
Rather than acting the new Rudd headed Labor government through its Climate Minister Penny Wong does an inquiry on Professor Garnaut's report with the obligatory built in bigotry disguised as Review… with terms and references, in an oh so 'Yes Minister' deal with the problem in the title sort of way as follows:-
Garnaut Climate Change Review
April 30, 2007
Terms of Reference

To report to the Governments of the eight States and Territories of Australia, and if invited to do so, to the Prime Minister of Australia, on:
1. The likely effect of human induced climate change on Australia's economy, environment, and water resources in the absence of effective national and international efforts to substantially cut greenhouse gas emissions;
Translation: we'll wait and see what everyone else will do… rather than leading by example.
2. The possible ameliorating effects of international policy reform on climate change, and the costs and benefits of various international and Australian policy interventions on Australian economic activity;
Translation: we'll wait and see what everyone else will do… rather than leading by example.

3. The role that Australia can play in the development and implementation of effective international policies on climate change; and
Translation: we'll wait and see what everyone else will do… rather than leading by example.

4. In the light of 1 to 3, recommend medium to long-term policy options for Australia, and the time path for their implementation which, taking the costs and benefits of domestic and international policies on climate change into account, will produce the best possible outcomes for Australia.
Translation: we'll wait and see what everyone else will do… rather than leading by example.

In making these recommendations, the Review will consider policies that: mitigate climate change, reduce the costs of adjustment to climate change (including through the acceleration of technological change in supply and use of energy), and reduce any adverse effects of climate change and mitigating policy responses on Australian incomes.
This Review should take into account the following core factors:
· The regional, sectoral and distributional implications of climate change and policies to mitigate climate change;
· The economic and strategic opportunities for Australia from playing a leading role in our region's shift to a more carbon-efficient economy, including the potential for Australia to become a regional hub for the technologies and industries associated with global movement to low carbon emissions; and
· The costs and benefits of Australia taking significant action to mitigate climate change ahead of competitor nations; and
· The weight of scientific opinion that developed countries need to reduce their greenhouse gas emissions by 60 percent by 2050 against 2000 emission levels, if global greenhouse gas concentrations in the atmosphere are to be stabilised to between 450 and 550ppm by mid century.
Consult with key stakeholders to understand views and inform analysis.
A draft Report is to be distributed for comment by June 30 2008. The final Report is to be completed and published by September 30 2008.
Interim draft reports on particular issues may be released before that time for public discussion.
The Report will embody the independent judgments of its author.
Which will lead of course to a:-
Climate Change Review Review stay tuned.
When heated, cup gives graphic reminder of climate change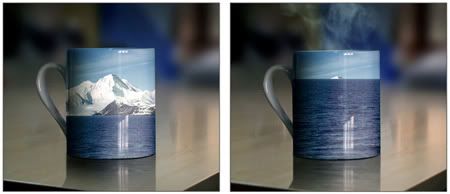 The external surface of the cup is printed with a second layer of heat sensitive ink that is revealed when hot water is poured into the cup.
Website: Advertising agency
Brisbane Storm
More weird storms but this time in Australia.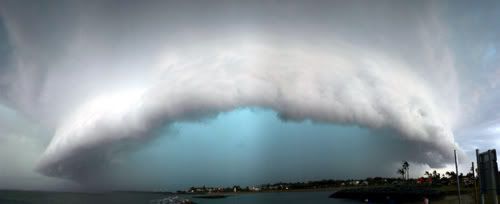 Photo: Unknown
More weird storms but this time in Australia.
We will all pay for Howard's hidden greenhouse debt
The problem is I'm not sure Rudd wont be in the pocket of the resource industry as well.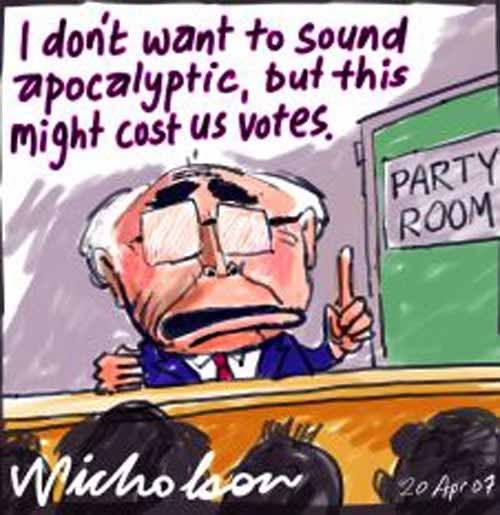 Photo: Nicholson Cartoons
G'day,
Before you go on with this post I must say up front that I have always (since '76) hated our ex-prime minister John Howard and his circle of 'friends' (both within and outside government) with a passion. He is and was in my opinion a totally dishonest, mean-spirited and stupid individual (clever's not intelligence) who got to power because his ideology suited the resource industry and those who invest in it.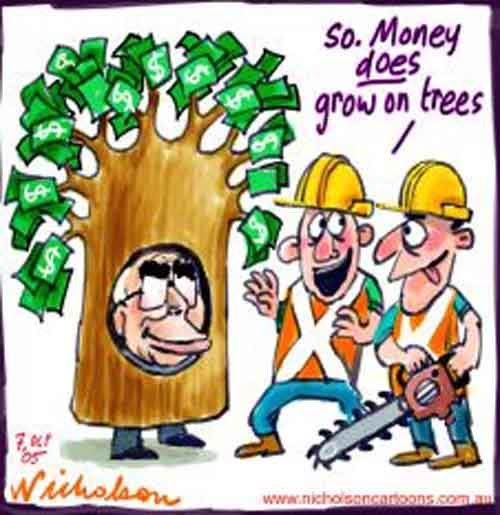 Photo: Nicholson Cartoons
I believe we should take a page out of Norway's way of running a country. They nationalized their oil industry and used the money to pay off their debt. They invested in education & services and are now one of the best educated and prosperous countries in the world.
Some years ago American corporations laughed at Norway's intention to build deep sea oil drilling platforms… a few years later the US had to swallow there pride and buy their platforms from Norway. How do I know this, my mother's Norwegian, I lived there for a couple of years and their treatment of a raging 'Bush Boy' from Kenya was a credit to their tolerance and understanding… unlike the treatment metered out to me by the British or Australian 'education' system.
POST CONTINUES HERE (more…)