We will all pay for Howard's hidden greenhouse debt
The problem is I'm not sure Rudd wont be in the pocket of the resource industry as well.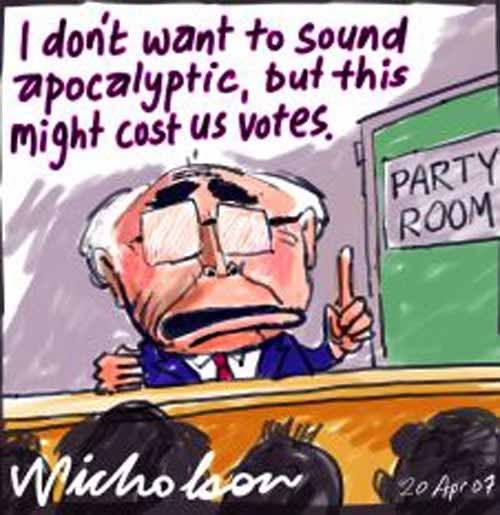 Photo: Nicholson Cartoons
G'day,
Before you go on with this post I must say up front that I have always (since '76) hated our ex-prime minister John Howard and his circle of 'friends' (both within and outside government) with a passion. He is and was in my opinion a totally dishonest, mean-spirited and stupid individual (clever's not intelligence) who got to power because his ideology suited the resource industry and those who invest in it.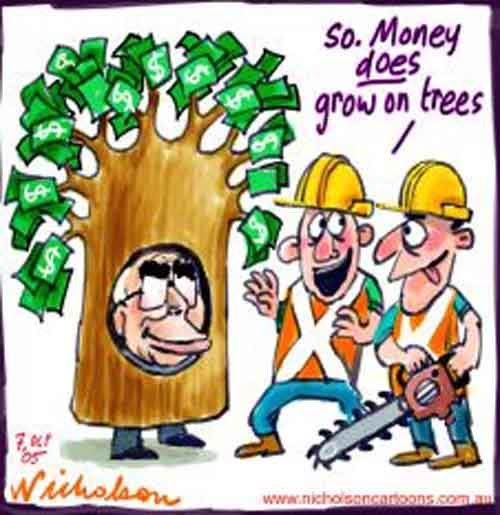 Photo: Nicholson Cartoons
I believe we should take a page out of Norway's way of running a country. They nationalized their oil industry and used the money to pay off their debt. They invested in education & services and are now one of the best educated and prosperous countries in the world.
Some years ago American corporations laughed at Norway's intention to build deep sea oil drilling platforms… a few years later the US had to swallow there pride and buy their platforms from Norway. How do I know this, my mother's Norwegian, I lived there for a couple of years and their treatment of a raging 'Bush Boy' from Kenya was a credit to their tolerance and understanding… unlike the treatment metered out to me by the British or Australian 'education' system.
POST CONTINUES HERE
Part of my problem was though I am 'above average intelligence' I'm dyslectic, some of you have probably notice this from reading my posts… you got to laugh, a dyslectic writing posts.
This little bit of information was a lead up to my recommending a bit of software which I depend on to check my scribblings… the software to which I refer is ReadPlease, now please don't blame ReadPlease for my idiosyncratic writing style. Anyway, the other reason for my ravings is to say that I use ReadPlease to read out to me posts such as this, and I'm then free to go on surfing… cool eh.
Below reprint from Crikey
"We have come to expect that soon after its election a new government will declare that the previous administration has left a hidden mountain of debt and that stringent measures will be required to deal with it.
After checking the books, the Labor Government has said that there is no hidden Howard debt. But Mr Rudd has discovered in Bali this week that John Howard has left him something much worse than a budget blow-out — a huge greenhouse debt.
Over 11 years, the Howard Government allowed Australia's greenhouse gas emissions to grow so profligately that the task of cutting them back and meeting international expectations appears almost impossible.
Lacking a Charter of Greenhouse Accounting Honesty, the Howard Government could hide its negligence through a special clause inserted into the Kyoto Protocol at the last minute.
The "Australia clause", as it was instantly dubbed, allowed the Howard Government to mask the extraordinary growth in fossil emissions by offsetting them against the sharp fall in emissions from land-clearing.
So, as late as this year Malcolm Turnbull could claim that in 2005 our emissions were only 4% or so above 1990 levels, even though our emissions from burning fossil fuels had grown by over 30%.
The true picture, concealed by tricky accounting, was much worse than the Government let on. And the get-out-of-jail free card provided by the Australia clause has already been played. Any cuts now must come from coal, oil and gas.
The implications of this appalling policy failure have come to a head in Bali today. The sticking point in the negotiations is whether to include in the Bali mandate a recognition that developed countries need to cut their collective emissions by 25-40% below 1990 levels by 2020.
The pressure on Australia is enormous, but Kevin Rudd is trapped. Australia's total emissions will reach around 110% of 1990 levels in 2010, which means that a 25% cut below 1990 levels would require Australia to cut its emissions by a third over a 10 year period. No wonder the Prime Minister is blanching at the prospect.
If the Howard Government had taken its responsibilities seriously Australia's emissions in 2010 could be at 95% of 1990 levels. At a minimum we could have had several years of building the new energy infrastructure that would
permit a rapid reduction of our emissions. Savings from energy efficiency alone could get us to this point.
It's much easier to get from 95% to 75% in 10 years than from 110% to 75%. Cutting domestic emissions by the latter amount is not feasible and Australia would be required to buy emission permits from other countries or invest heavily in developing countries through the Clean Development Mechanism.
There could have been a third and much more attractive option. The deal granted to Australia at Kyoto in 1997 was so generous that we could easily have come in under our target for the 2008-2012 period and been left with a swag of emission credits we could then have banked for the second commitment period.
Alternatively we could have sold them to other countries, such as Japan, that might struggle to meet their obligations.
It will take the Rudd Government many years to pay off John Howard's massive greenhouse debt. In truth, the Australian public will pay for it. The economic modellers have been pointing out for a long time that delaying action drives up the cost of cutting our emissions.
Although it is now Rudd's problem, it is Howard himself who must take all of the blame, for it was his personal decision, against all of the advice, to remain stubbornly opposed to accepting the reality of global warming."
Website: Crikey
When heated, cup gives graphic reminder of climate change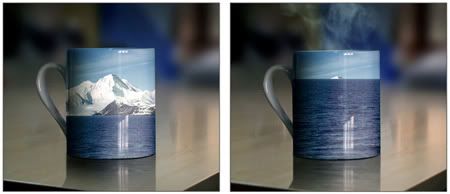 The external surface of the cup is printed with a second layer of heat sensitive ink that is revealed when hot water is poured into the cup.
Website: Advertising agency
Brisbane Storm
More weird storms but this time in Australia.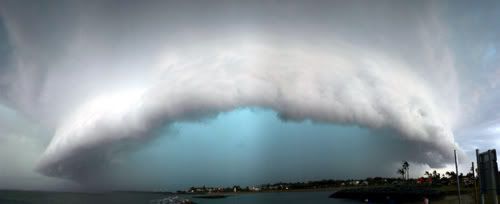 Photo: Unknown
More weird storms but this time in Australia.
Wong is Wrong
This post is regarding Australia's minister for Climate Change and Water and her relative inaction regarding Professor Ross Garnaut's interim greenhouse review.
See the full story at PaleBluDot.
Well I just couldn't resist and whilst in the moment I'll add, two Wrongs wont make a right either Ms Wong.
This post is regarding Australia's minister for Climate Change and Water (Penny Wong) and her relative inaction regarding Professor Ross Garnaut's interim greenhouse review.
The story so far. Australia is dominated by the Banks, the Resource industry and the Industrial Farming sector… they are the ones, who at present with more than a little help of the Rice & Cotton mob in the not so deep north, who justify their greed with the defense of 'export growth' & 'jobs', whilst the mob in the not so deep north go on butchering our most important Murray Darling waterway.
The Garnaut Climate Change Report is handed in and it tells us what most thinking people already know… like it's not that hard to realize that to freeze the World's pollution at sort of 1990's levels, when there were already signs of climatic arrhythmia, is not unlike closing the barn door after the horse has bolted… to the power of a number just sightly south of infinity.
POST CONTINUES (more…)